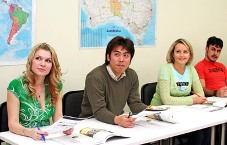 IELTS Preparation are available at the following 3 levels:
To check prices or book online, select your preferred start date, course duration and currency from the options below.
25 Lessons per week (4 lessons per day)

1 lesson: 50 minutes

15 students max. per class

Course length: 1-50 weeks

Age 14+
This general IELTS preparation course is ideally suited for those learners looking to attain the IELTS Examination 6.5 band scale and above in application of New Zealand permanent residency or NZ registration for their profession ie nurses, lawyers, doctors, etc.

The classes are intensive so you can attain the required band score quicker.