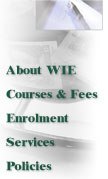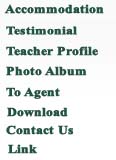 Application Procedures for Domestic students

You can send your enrolment directly to WIE by following the steps below.

Please Complete the Student Application Form with your personal details and what course you want to study. complete and sign the declaration
There are two ways you can complete our enrolment form


Students in Waikato Institute of Education
We will process your application when it is received. You will be notified if your application has been successful and you will be sent the following:

an invoice for the fees payable

an Offer of Place quoting fees and confirming the dates of your course

a request that you write back by a stated date, accepting the offer

You will also be asked to pay the annual programme fee (or full fee on a shorter programme), together with an accommodation placement fee if required.


Write to WIE saying that you accept the offer, enclosing the necessary fees. When we receive payment, we will then send you a receipt and arrange your accommodation. Your fees must be paid to your Authorised Agent or into our Student Fees Trust Account.
Payment may be made by Bank Transfer, Bank Draft or Bank Cheque. Bank account details:

Account Name: Waikato Institute of Education Trust Account
Bank Name: Bank of New Zealand
Branch: Hamilton
Address of Bank: 354 Victoria Street, Hamilton, New Zealand
Account Number: 02-0316-0020067-000
Swift code: BKNZNZ22

Students are responsible for paying all bank charges.


Student Loans and Allowances

(New Zealand domestic students only)



WIE is registered to provide its domestic students with access to Student
Loans and Allowances.

Student Loans

The Student Loan scheme is designed to assist students to meet their
expenses while studying, regardless of their employment or family
circumstances. To gain a Student Loan, you must be a New Zealand citizen or
have been granted permanent resident status here, and be enrolled in a
programme of study approved for student loans by the Ministry of Education.
You must either be full time in the programme, or be studying part time over
a period of 32 weeks or more.

The Student Loan is made up of four parts:

Compulsory fees

Course-related costs

Living costs (for full-time course only)

Administration fee


Student Allowances

Student Allowances are for full-time students who are on an approved study
course at a recognised institution. It is paid to help with your living
expenses while you study. Students have to meet set criteria to qualify.


IMPORTANT: More information on Student Loans and Allowances is to be found at Reception

Students who wish to apply for Student Loans or Student Allowances should
contact StudyLink directly or, you can ask WIE for information or to assist
you to apply (free service). Please contact StudyLink to lodge your
application as soon as you have been accepted into your programme of study.

Phone: 0800 889 900
Email: studylink@msd.govt.nz
Website: http://studylink.govt.nz

English for Migrants
(New Zealand domestic students only)
WIE is registered to provide its domestic students with access to TEC's
English for Migrants tuition funds. Tec pays for English language tuition
on behalf of Migrants who have pre purchased their language training from NZ Immigration Service (NZIS) as part of their residential application process.
If you have purchased language training from or are unsure of your status
contact WIE info@wie.ac.nz for more information (free service).
---